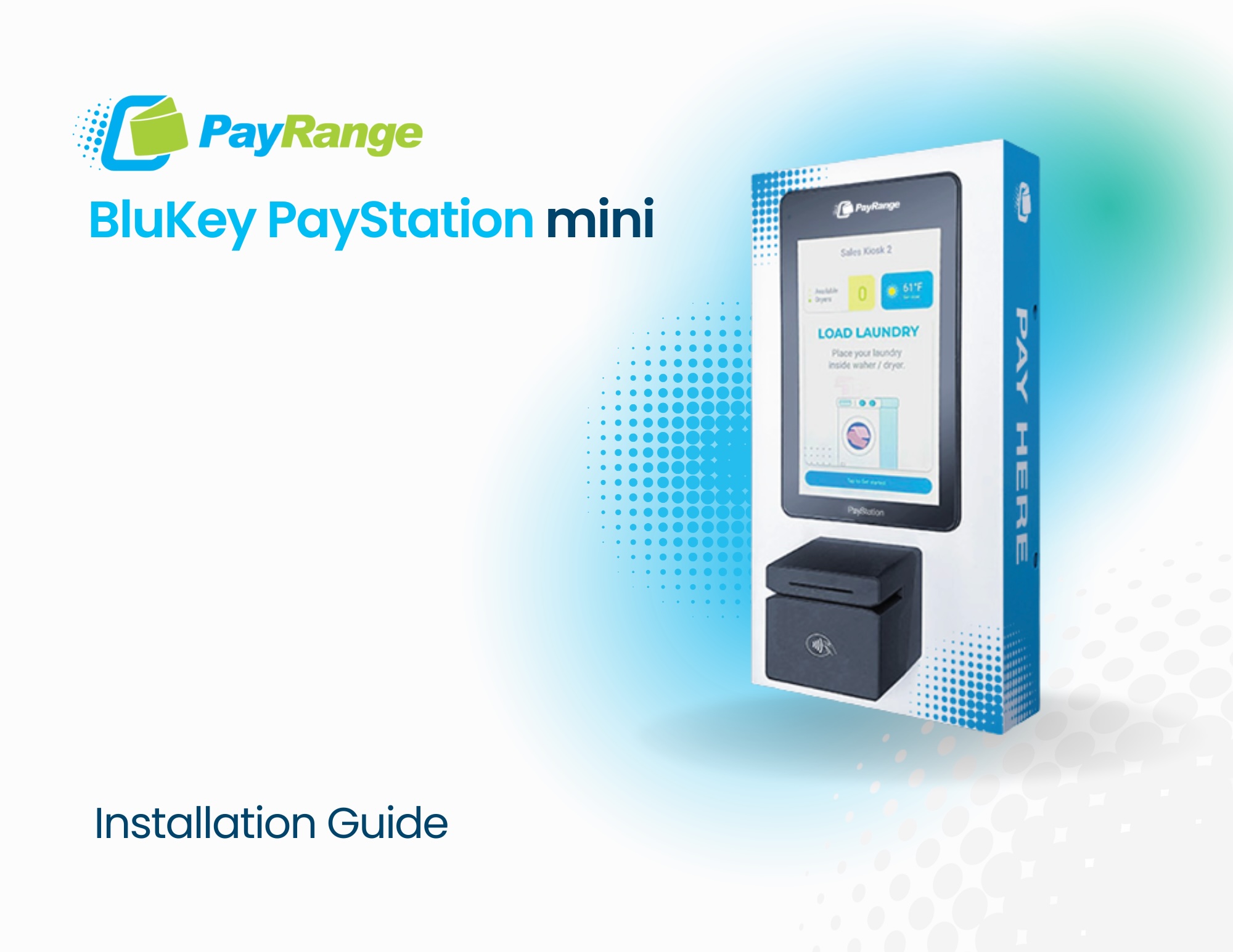 Welcome to your new PayRange BluKey PayStation, our connected room solution, enables your customers to conveniently use any PayRange enabled machine nearby, without the need for a phone or PayRange account. The BluKey PayStation streamlines the entire payment process, allowing users to complete their transactions directly on the PayStation.
IMPORTANT: PayRange BluKey PayStation (XL and mini) requires data connection. Prior to installation, verify your location has adequate cellular reception. If a mobile web browser can load a website relatively quickly, data connection should be adequate.
What's Required to Get Started:
1.

Smartphone with PayRange App

2.

PayRange Operator Account

3.

Tools to assist with installation

4.

PayRange products

(PayStation, BluKey, BluKey Connect)

5.
PayRange enabled machines (BluKey installed on your machines)
6.
Stable internet connection & 110V power outlet
Getting Started:
1.

Carefully remove the BluKey Connect and BluKey PayStation from its packaging.

2.

Prepare the PayStation for installation by first removing the back panel. There are two screws located on the bottom of the PayStation mini (Fig. 1).

3.

Remove the two screws using a T20 screwdriver and bit, then carefully remove the top back panel.

4.

If using an internet or cellular connection, connect the ethernet cable from the ethernet router or cellular modem to the ethernet port located on the back of the PayStation (Fig 2).

5.

Place the PayStation back mounting panel on the wall (ADA Compliant) and mount it securely using the included mounting hardware (Fig. 3).

6.

Attach the PayStation to the back mounting panel that was mounted to wall in the previous step (Fig. 4).

7.

Screw back the two T20 screws to the bottom side of the PayStation (Fig. 4). Use the screw covers to cover the two screws (Fig. 4).

8.

Ensure the PayStation is securely mounted to the wall and all screws have been screwed back onto the PayStation.

9.

Plug the PayStation power cord into a 110v power supply. Ensure the PayStation powers ON and the home screen is displayed.

10.
Follow the on-screen instructions shown on the PayStation display for the remaining installation and set-up.
Download the PayStation mini installation guide: