Welcome to the PayRange STARS program, a new consumer loyalty program tailored specifically to your business. The STARS program is designed to be a simple yet powerful driver towards increasing your consumer spend. Your consumer will earn STARS based on their spend amount and can be rewarded with free purchase rewards.
The STARS program is fully customizable. You can determine how you reward your consumers. To drive loyalty to your business, consumers can only earn and redeem rewards from spending at your specific machines.
Getting Started:
To customize your STAR program, first login to your MANAGE account.
Using the left-hand navigation menu, click on the MARKETING tab and select CAMPAIGNS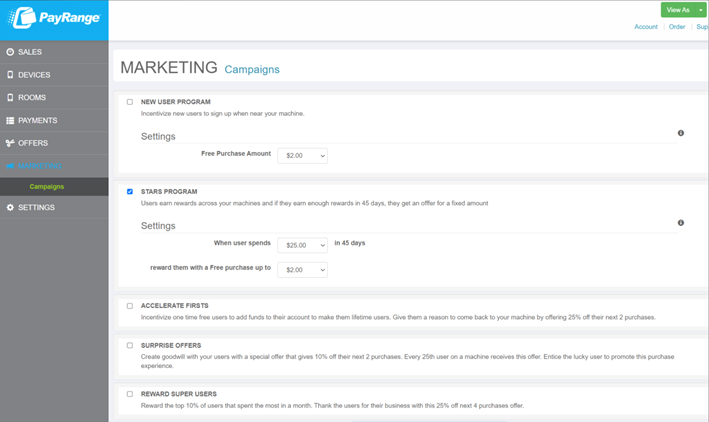 How to manage your STARS program:
The STARS program is automatically turned ON in your MANAGE operator account. If you are an existing customer and your STARS program box is not enabled, you can turn ON the program by checking the box. When the STARS program is turned on, the program applies to all your registered devices.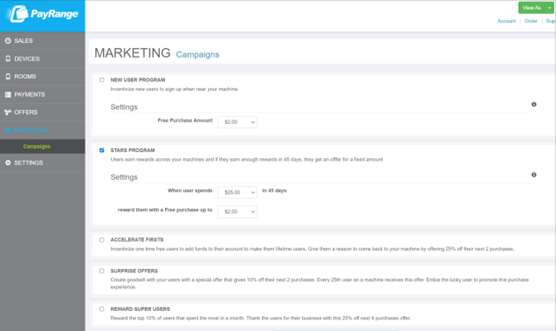 To turn the STARS program OFF, unselect the "STARS PROGRAM" box.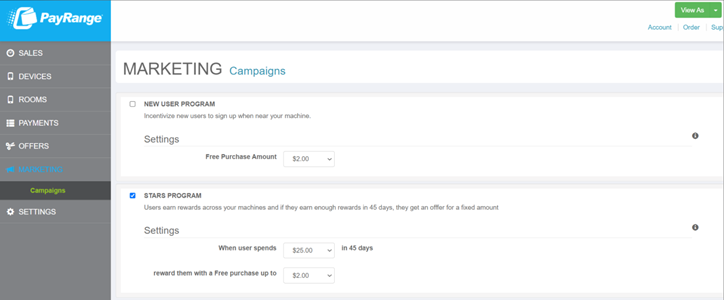 Setting the Purchase Spend Level
You select the purchase spend level your consumer must spend in order to be rewarded. When user spends (your selected dollar amount) over a 45-day period, they will be rewarded with your selected reward value.
Consumers will then earn STARS for every purchase made based on the values you set up in your Stars program. For instance, you can set the program so that the consumer earns two stars for every 25 cents of purchase.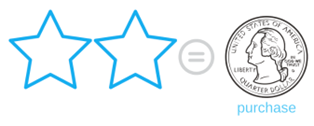 Setting the Reward Value:
You select the maximum reward value (up to value) for their earned free purchase.
For example, if you set the maximum reward value up to $2.50, for every 100 stars a consumer earns, they will receive an automatic award for a free purchase up to $2.50.
Program Expiration Date:
Stars expire on a rolling 45-day basis to encourage frequency.
Rewards (once earned) will expire in 30-days.
What does this cost me?
Effectively the cost of a free purchase and only if the consumer redeems their reward.
When is the cost incurred?
At redemption (use of the free reward offer)
Where can my customer's points be redeemed?
Your customers can only redeem their points at machines registered to the operator who issued them.
How does my customer know how many points they have earned?
When your customer opens their PayRange app and is physically in front of a participating machine, their current STAR balance will be shown below the machine number screen.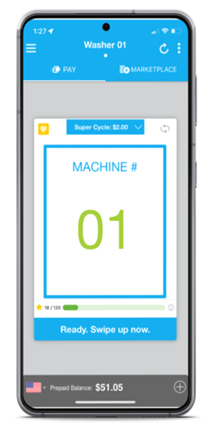 How does my customer receive their free purchase reward?
Your customer will automatically receive their free purchase reward in their PayRange app. When your customer is in front of a machine, the PayRange app will automatically present their purchase reward.